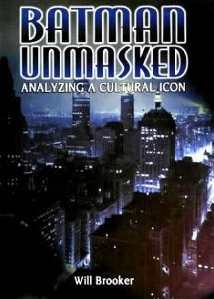 BATMAN-ON-FILM.COM - Batman Fans Needed For New Bat-Book!
Dr. Will Brooker, Director of Research at Kingston University, London, and

author

of the book BATMAN UNMASKED
(Continuum, 2000), is researching a new book on Chris Nolan's Batman, titled HUNTING THE DARK KNIGHT.
The book will be published by I.B. Tauris in 2012, and Will is currently in need of Batman fans to contribute their views to his study.
If you're a fan of Nolan's Batman and would like to complete a survey for the book, please contact Will at W.BROOKER@KINGSTON.AC.UK.
The book is a serious study of THE DARK KNIGHT (and BATMAN BEGINS) -- covering such topics as Nolan's authorship of the franchise reboot, the alternate reality game "Why So Serious," Nolan's movies and their relationship to comic book continuity, and the political connotations of THE DARK KNIGHT.